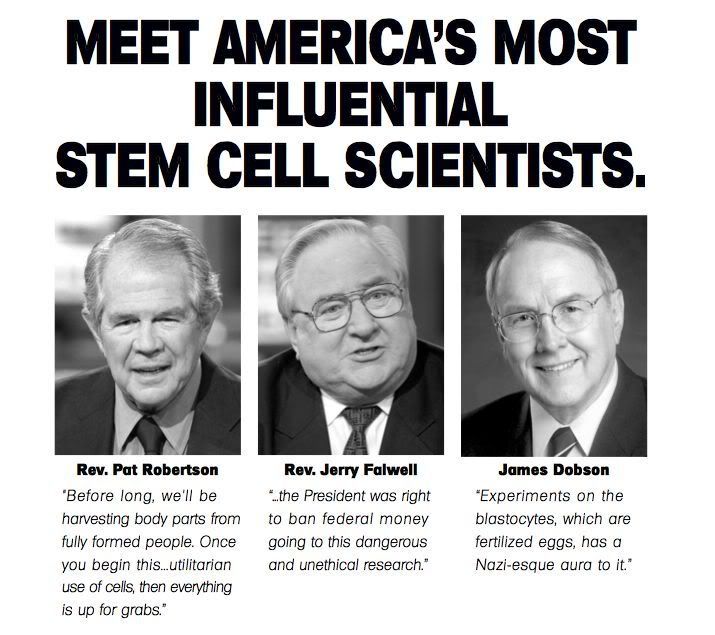 Charles "Chuck" Colson
was Nixon's chief counsel and one of the Watergate Seven sent up the river for his connection to that scandal. The man who many say was 'Nixon's Karl Rove' experienced a marvelous christian rebirth in prison and founded the Prison Fellowship.
So it's with a barrel of salt that I read an article by Colson at the Christian Post, titled
Who Is Funding Attacks on Christians?
(the hyperlink is mine):
The full-page ad in the New York Times featured head shots of Jerry Falwell, James Dobson, and Pat Robertson [PDF]. Above them, in giant type, were the words, "Meet America's Most Influential Stem Cell Scientists." The ad charges evangelicals with trying to turn America into a theocracy and outlaw scientific research.

This ad was one of many hysterical, vicious, and untruthful ads paid for by a group called the Campaign to Defend the Constitution, or "DefCon." But far from defending the Constitution, DefCon, which does not have to report who they are or who is paying for these ads, is an extreme left-wing group intent on demonizing religious conservatives.

Promoting embryo-destructive stem-cell research is just one of its causes. DefCon also supports abortion, special rights for homosexuals, a radical animal-rights agenda, and force-feeding school kids an uncritical view of Darwinian evolution.

Those views, of course, are standard fare for the left today. But much more disturbing is the manner in which this secretive campaign portrays people of faith. On its website, it accuses Christians of "hijacking" the federal courts and of wanting to achieve "absolute power over all branches of government . . . breaking the rules to get it." We're accused of trying to make medical decisions for women and turning homosexuals into second-class citizens.

In the school classroom, we zealots are scheming to replace "scientific knowledge with religious ideology." Moreover, we are plotting to use the government to "proselytize or to infringe on the religious freedom of all Americans." Wow.
Yeah, Chuck, that's just nuts. Why on earth would anyone actually think that Dobson, Falwell, and Robertson want christian theocracy, when that's
exactly
what
they tell us
they want?
"I have a Divine Mandate to go into the halls of Congress and fight for laws that will save America."

"We must, from the highest office in the land right down to the shoeshine boy in the airport, have a return to Biblical basics."
--Jerry Falwell

"The Constitution of the United States, for instance, is a marvelous document for self-government by the Christian people. But the minute you turn the document into the hands of non-Christian people and atheistic people they can use it to destroy the very foundation of our society. And that's what's been happening."
--Pat Robertson

"This really was a Christian nation," he claims, "and, as far as its founders were concerned, to try separating Christianity from government is virtually impossible and would result in unthinkable damage to the nation and its people. Much of the damage we see around us must be attributed to this separation."
--James Dobson


To be fair, I don't know of any political movement that doesn't think that the government would be better off if everyone in it embraced their ideology. But the religious right embraces a theology known as Dominionism. This theology is best explained as a belief that God gave christians the world to rule. In 1986, Pat Robertson distributed a flyer to the Iowa Republican County Caucus that read:


How to Participate in a Political Party:

Rule the world for God.

Give the impression that you are there to work for the party, not push an ideology.

Hide your strength.

Don't flaunt your Christianity.

Christians need to take leadership positions. Party officers control political parties and so it is very important that mature Christians have a majority of leadership positions whenever possible, God willing.


So, when Colson tells us that saying religious extremists want theocracy is '
hysterical, vicious, and untruthful
', we have to ask, "So what, exactly, does 'Rule the world for God' mean, then?"

Colson tells us, "Well, who is funding the spewing of all this hatred and deceit? It takes a lot of digging to find out.

"One major source is the Tides Center, funded by the far-left Tides Foundation, which helps to fund the ACLU, PETA, pro-abortion groups [NARAL], the Gay and Lesbian Victory Fund, Planned Parenthood, Moveon.org, and the Council for American-Islamic Relations, which has links to terrorism."

First off, saying CAIR has links to terrorism is a common rightwing smear. A quick google search of the terms CAIR terrorism shows that this connection is made exclusively by rightwingers -- they're muslim, they're critical of President Bush, so they must be terrorist. That's all the connection the logical leapers on the right need.

But the more subtle smear is that all of this is some shadowy conspiracy of lefty groups to 'attack christians'. Colson may have needed to do a 'lot of digging' to find out about the connection between Tides and Defcon.com, but that doesn't mean it's any secret at all. If you go to the Tides Center's website, Campaign to Defend the Constitution is clearly listed as a grant recipient. Some secret.

And is this a group created to attack christians? Since Defcon's Advisory Board includes Rev. Fletcher Harper, an Episcopal priest, Rev. James M. Lawson Jr., of the Southern Christian Leadership Project of greater Los Angeles, founded by Martin Luther King Jr. in 1957, and Rev. Dr. Mel White, of the Dallas Cathedral of Hope of the Universal Fellowship of Metropolitan Community Churches, that seems unlikely.

More likely is that Colson -- like far too many on the right -- has a very narrow view of who's a 'real' christian and and an extremely broad view of who's a 'false' christian. Jesus is a republican and any liberals who claim Christianity are either lying or deluded.

And Colson's idea of what christians believe is far outside the mainstream. It's even far right for Born-Again Christians. Where he tells us 'promoting embryo-destructive stem-cell research is just one of [Defcon's] causes', a Harris Poll taken in 2004 tells us:


The level of opposition to stem cell research varies according to people's religious beliefs. Those who describe themselves as "very religious" are much more likely to oppose stem research than those who are "not at all" or "not very" religious (23% vs. 4%). Born-Again Christians are more likely to oppose it than are other Christians (21% vs. 9%); and Catholics are somewhat more likely to oppose it than Protestants (15% vs. 10%).

However, clear majorities of all religious groups we analyzed favor stem cell research.


No matter how you measure someone's Christianity, most christians support stem cell research. They just aren't christian enough, I guess -- almost no one is.

In the end, Colson's article is a smear piece -- we're supposed to be shocked that a lefty grantor gives money to a lefty grantee? By casting this whole thing as a cloak and dagger 'attack on christians', he hopes to distract your attention from the valid criticism in the ad taken out by Defcon to his 'exposing' of something that's absolutely no secret at all.

There's a reason why the Boston Globe's Martin Nolan called Colson the 'spiritual ancestor' of Karl Rove. Prison may have taught him a love of Jesus, but it didn't teach him a damned thing about honesty.

--Wisco
Technorati tags: politics; religion; religious right; propaganda; Campaign to Defend the Constitution isn't attacking christians so much as religious nutjobs like Chuck Colson