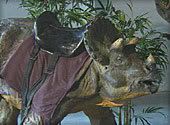 More War on Science fun with a field trip to Crazytown, where the current Mayor is creationist paleontologist Kurt Wise, currently working as a consultant for the Creation Museum in Florence, KY.
Baptist Press:

In Kurt Wise's office at Southern Baptist Theological Seminary you can find fossils that secular scientists claim are billions of years old and are part of the long process of man's evolution.

But this Harvard-trained paleontology expert is out to show a better explanation for fossils -- and why neither science nor the Bible allow for evolution. That's why Wise, director of the Center for Theology and Science and professor of theology and science at Southern, also has agreed to serve as a consultant for the Creation Museum in Florence, Ky., near Cincinnati.

The museum, scheduled to open in April 2007, will feature 50,000 square feet and more than 250 exhibits countering the errors of evolutionary science and demonstrating the reliability of the first 11 chapters in Genesis.
I've always wondered why young earth creationists mention fossils at all. If the Earth is only 6,000 years old (which is what young earthers claim), where did they come from? They use the fossil record to criticize evolution, but they have no fossils of modern creatures -- where's the pig fossil, the chicken fossil, the dog fossil? If all these organisms have been here since the gitgo, where are
their
fossils? And there are no fossils showing
carved
bone -- primitive fish hooks and sewing needles we find in an unfossilized state. If it only takes 6,000 years for things to fossilized, where are they? Why is it that very few animals that aren't extinct have been fossilized?
These questions are better off ignored, which is what Wise basically advises:
Believers don't have to understand all the details of science in order to understand the creation account; they just have to rely on God.

"The most important thing is that you ought to be able to trust your God and the claims the Bible makes. I know most people don't understand what in the world the scientists are saying. That's OK. Just pay attention to what God says. If you trust what God has given us, it becomes an appropriate foundation for every aspect of our lives."

As believers examine science, the most important thing they can remember is to always pay attention to Scripture above any scientist, Wise said.

"The most important thing is, regardless of what all the scientists are saying, the Bible is true and you can accept it by faith," he said. "God is only pleased with faith, as a matter of fact. To trust the scientists is not faith. It is, in fact, trusting in man's reason rather than God."


So, ignore all that 'science' crap and listen to biblical 'experts'. Science will only confuse you -- which pretty much describes Wise's condition.


Richard Dawkins:

[Kurt Wise] volunteers that, even if all the evidence in the universe flatly contradicted Scripture, and even if he had reached the point of admitting this to himself, he would still take his stand on Scripture and deny the evidence. This leaves me, as a scientist, speechless. I cannot imagine what it must be like to have a mind capable of such doublethink. It reminds me of Winston Smith in struggling to believe that two plus two equals five if Big Brother said so. But that was fiction and, anyway, Winston was tortured into submission. Kurt Wise—and presumably others like him who are less candid—has suffered no such physical coercion. But, as I hinted at the end of my previous column, I do wonder whether childhood indoctrination could wreak a sufficiently powerful brainwashing effect to account for this bizarre phenomenon.


I always say that belief in something for which there is no evidence is faith; belief in something for which there is contrary evidence is delusion. Luckily for Wise, he can stay away from the area that would most challenge his faith in creationism -- the real world -- and protect his delusion. Creationists have a real hard time applying their theories in the field.

We can see this in an exchange between a young earth advocate from the John Morris of the Institute for Creation research and former creationist geologist Glenn Morton, now working in the field for the oil industry.


Glenn Morton (emphasis added):

By 1986, the growing doubts about the ability of the widely accepted creationist viewpoints to explain the geologic data led to a nearly 10 year withdrawal from publication. My last young-earth paper was entitled Geologic Challenges to a Young-earth, which I presented as the first paper in the First International Conference on Creationism. It was not well received. Young-earth creationists don't like being told they are wrong. The reaction to the pictures, seismic data, the logic disgusted me. They were more interested in what I sounded like than in the data!

John Morris came to the stage to challenge me. He claimed to have been in the oil industry. I asked him what oil company he had worked for. I am going to let an account of this published in the Skeptical Inquirer in late 86 or early 87. It was written by Robert Schadewald. He writes,

"John Morris went to the microphone and identified himself as a petroleum geologist. He questioned Morton's claim that pollen grains are found in salt formations, and accused Morton of sounding like an anticreationist, raising more problems than his critics could respond to in the time available. Morris said that the ICR staff is working on these problems all the time. He told Morton to quit raising problems and start solving them. "Morton chopped him off at the ankles. Two questions, said Morton: 'What oil company did you work for?' Well, uh, actually Morris never worked for an oil company, but he once taught petroleum engineering at the University of Oklahoma. Second, How old is the Earth?' 'If the earth is more than 10,000 years old then Scripture has no meaning.' Morton then said that he had hired several graduates of Christian Heritage College, and that all of them suffered severe crises of faith. The were utterly unprepared to face the geologic facts every petroleum geologist deals with on a daily basis. Morton neglected to add that ICR is much better known for ignoring or denying problems than dealing with them."


Which is why people like Wise can sit safely in their Creation Museums, hold young earth conferences, and throw mud at Darwin -- they don't have to actually apply their 'science.' The fact of the matter is that none of their stuff works in the field -- it's the science they dispute that works. People who dispute evolution and accepted geology aren't out finding oil or working for mining companies, creating vaccines or working to advance agriculture. They sit on their minds and complain about accepted science that actually works.

--Wisco
Technorati tags: politics; science; evolution; religious right; Kurt Wise; creationism calls for a "Young Earth" -- even is creationists can't actually get it to work

(photo courtesy of PBS)